The Extraordinary Adventures of Alfred Kropp
The Extraordinary Adventures of Alfred Kropp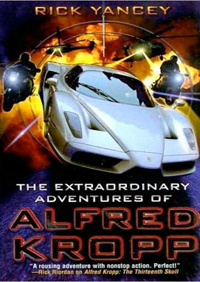 Alfred Kropp was just trying to survive high school when his guardian uncle gets him roped into a suspicious get-rich-quick scheme that changes his life forever: stealing Excalibur—the legendary sword of King Arthur. But after Alfred unwittingly delivers the sword into the hands of a man with enormously evil intentions, he sets off on an unlikely quest to try to right his wrong and save the world from imminent destruction. This gripping, fast-paced, hilarious novel is both a thrilling adventure story and an engaging account of one boy's coming of age.




---
Alfred Kropp: The Seal of Solomon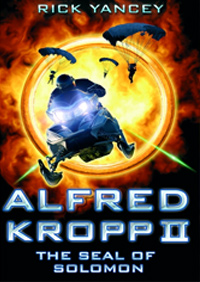 Alfred Kropp returns in another page-turning, car-chasing, world-saving adventure! The ancient seals of Solomon—used by Kind Solomon to imprison the fallen angels of heaven—have disappeared. Should they fall in to the wrong hands, all hell could break lose . . . literally. And when Alfred Kropp goofs up as usual, the ring ends up in the hands of King Paimon, a terrible demon with a special bone to pick with our reluctant hero. Alfred must find a way to right his wrong and save the world from imminent destruction . . . again! Jam packed with boy-centric action, this series is perfect for reluctant readers who are increasingly discovering this one-of-a-kind hero.




---
Alfred Kropp: The Thirteenth Skull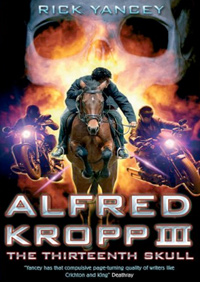 First Alfred Kropp lost—and found—the legendary sword Excalibur. Then he defeated King Paimon, arguably the nastiest of the demons to escape when the Seals of Solomon were stolen. What could be left? Plenty, it turns out. Not only is someone out to kill Alfred, but the very people who have sworn to protect him are now trying to use him for deadly means: creating a superhuman army. Trust and betrayal will clash in terrifying ways as Alfred struggles to hold his enemies at bay, even as he learns the full scope of OIPEPs plans for him.




---
Alfred Kropp Activity Files
Chapter-by-Chapter Questions: Click here (PDF) [4.8mb]
Language Arts - Poetry: Click here (PDF) [1.8mb]
Character Education - Responsibility: Click here (PDF) [1.5mb]
Breaking the Codes: Click here (PDF) [668kb]
Adventure Guide: Click here (PDF) [2.4mb]
Vocabulary List: Click here (PDF) [940kb]
Reader Response Questions: Click here (PDF) [1.3mb]
Book Info Sheet (by Scholastic): Click here
Student Activity Sheet (by Scholastic): Click here (PDF)
---
One School / One Book
Click here for files related to the Braden River, One School/One Book initiative