Rags & Bones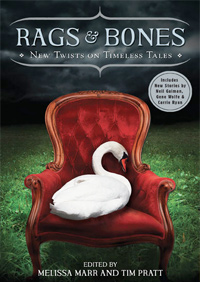 The best writers of our generation retell the classics.
Literature is filled with sexy, deadly, and downright twisted tales. In this collection, award-winning and bestselling authors reimagine their favorite classic stories, ones that have inspired, awed, and enraged them; ones that have become ingrained in modern culture; and ones that have been too long overlooked. They take these stories and boil them down to their bones, and then reassemble them for a new generation of readers.
Today's most acclaimed authors use their own unique styles to rebuild these twelve timeless stories, including Rick Yancey.




---
Confessions of a Tax Collector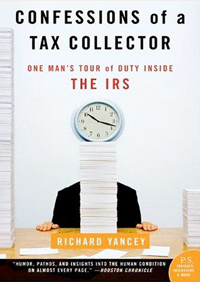 Twelve years ago, Richard Yancey answered a blind ad in the newspaper offering a salary higher than what he'd made over the three previous years combined. It turned out that the job was for the Internal Revenue Service -- the most hated and feared organization in the federal government.
So Yancey became the man who got in his car, drove to your house, knocked on your door, and made you pay. Never mind that his car was littered with candy wrappers, his palms were sweaty, and he couldn't remember where he stashed his own tax records. He was there on the authority of the United States government.
With "a rich mix of humor, horror, and angst [and] better than most novels on the bestseller lists" (Boston Sunday Globe), Confessions of a Tax Collector contains an astonishing cast of too-strange-for-fiction characters. But the most intriguing character of all is Yancey himself who -- in detailing how the job changed him and how he managed to pull himself back from the brink of moral, ethical, and spiritual bankruptcy -- reveals what really lies beneath those dark suits and mirrored sunglasses.




---
A Burning in Homeland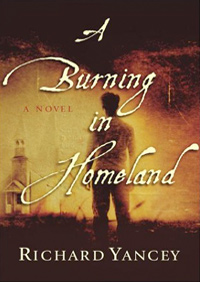 In what can only be described as a tour-de-force of passionate atmospheric storytelling, first-time novelist Richard Yancey had created a finely nuanced narrative that resounds with raw, emotional truths -- a story about the ominous return to a small town in central Florida of a man once sentenced to prison for defending the honor of the woman he loved, about the woman and her husband who both betrayed him, and about a guileless young boy who gets caught up in their web of love, lies, and deceit.
The story of the love between Halley Martin and Mavis Howell is seldom talked about in the tiny town of Homeland, Florida, but in the twenty years since Halley was sent to prison for murdering a rival suitor -- the only murder ever in this small, pious town -- the story has become legend. To seven-year-old Shiny Parker it has become a mystery, something his parents whisper about. He knows that somehow the pretty wife of the local minister is involved, but it is all too confusing for him to sort out.
When the church's parsonage burns, almost killing the minister, only days before the legendary Halley Martin is due to be released from prison, Shiny senses a connection between the events -- as do most residents of the town. But if Haley was still in prison when the house burned, who set the fire...and why?
Passionate love, the betrayal of friendship, hidden letters, a suspicious fire, mystery and revenge -- all are elements of this complex and deeply involving Southern gothic tale.
Alternating among a trio of first person narrators -- Shiny, Mavis, and Halley -- Richard Yancey has created a lush, epic Southern landscape bursting with larger than life characters and rich atmospherics. A Burning in Homeland is both starkly haunting and exquisitely romantic and a masterpiece of dazzling storytelling you will not soon forget.